Unemployment in Nigeria is a major source of concern, government administrations after administration have tried their best to deport massive unemployment from the country; but the former is already assuming the status of the son of the soil thus refusing to shift its roots beyond our noble shores.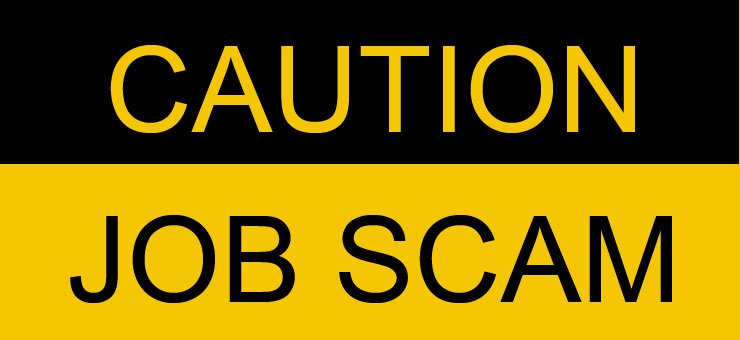 In the presence of the employment crisis are some individuals illicitly finding gainful employment pavings; squeezing the unemployed Nigerian of the small he has; both of his cash and of hope at the end leaving their victims more mentally broke than they financially are. Here we are talking about job scammers. These sect of criminal professionals put up of the guise of being your legal prospective employer or say a recruitment all with the back-room intent of swindling you. There is no where you wouldn't find them, online or offline!
The internet is in need of a police station now! The cyberspace is becoming a digital terrain of crime as some persons have spread nets all over the internet waiting to fish on unsuspecting preys. The world though is going digital and the internet is a becoming a bigger and sophisticated e-office but then job scammers have sadly built a very robust niche for themselves online too. The categories of online job scammers span across those aiming to get their teeth on very delicate information from you possibly for identity theft ( say cash illicit dubious checks) or those with hoping to put their straws on credit card and drink some cups of money fraudulently from you.
Job scams are well posted on online job forums and boards like Craigslist and even on social media platforms like your Twitter or Facebook. Sometimes you even find yourself on the receiving end of unsolicited email from scammers. Some of these very deadly scam-riddled cases could take the form of job offers without an initial application, promising you the job straight without even a basic interview or even fundamental discussion with your employer. In some cases, the company demands you to share your personal information details which could include your drivers license number or some other discrete personal security number. Most are made to look so handsome and appealing on the fantasies of very fat pay with little work input from you. In some other circumstances, the company may be direct enough to tell make some payments or even demand for your credit card details as a procedure in the application process! Watch our carefully there is more likely you are priming for a job scam.
These job scams are well found offline too. One way to tell these offline job scams is that their interviews tend to hold at quickly assembled locations that lack the real representation of a functional office environment. Some of such interviews hold in hotels, restaurant or even fast foods. Other scammers are prepared enough to set up some supposedly real office carrying out invitations/ training regularly participants pay handsomely for on the premise that successful trainees would be called consequently and employed. Don't only keep ears close to the ground,add your eyes and watch carefully.
While some would even present stuff like purchasing employment forms or even some ridiculous employment PIN or just one form of payment of another before employment. This should well inform you that these guys are out to make your purse slimmer not any fatter. A legitimate employer is that willing to pay you not without getting monetary obligations from you first. In some other sophisticated cases, they claim to procure such a polished certificate for you (something like NEBOSH) that would give you more edible chances of securing a job in the an oil and gas company.
Good as it sounds, bad as it is! You could be sure they would terminate all forms of communication once you have successfully fallen prey. To know to paddle your canoe and avoid such waterfalls, simply google the company name in addition to "rip off" of even "rip off" and check out the results if such claim had earlier been raised. Also you could visit the supposed website of the company and check if they have contact information.
The best amulet you have however against this evil bunch of job scammers is never to make any payment for any job! Good legitimate jobs are very unlike to demand any thing monetary from your side as an employee. Finally as much as you feel the surge to job on a recruitment exercise, be technically calm enough to dissect and examine the conditions surrounding the exercise. Most times you get to see you need more of calm than intelligence to uncover an alluring job scam!
PLEASE help others by Sharing This Job Opportunity on: